Ask any traveler to name a few countries you should visit in your lifetime and most will have India somewhere on the top of the list.
The extraordinary cuisine, mind blowing history and sacred temples are rich with  culture.
There is now another reason one should visit the magical country – a mind-blowing statue of an eagle, bringing an old myth back to life.
The person responsible? famous filmmaker Rajiv Anchal.
Rajiv has opened the landmark to the public, after 10 years of hard work.
Near Kerala, Jatayu Earth Centre has become one of the best places to visit while on your journey through India.
The sculpture is dedicated to the Hindu epic Ramayana.
Written is Sanskrit, the Ramayana epic tells the story of a giant eagle of the Ramayana who fell from the skies while battling against Ravana, in order to save the Hindu goddess Sita. Residents of Chadayamangalam village in Kollam district, Kerala speak of the story, knowing it from their childhoods.
The sculpture of a bird is currently the biggest in the world.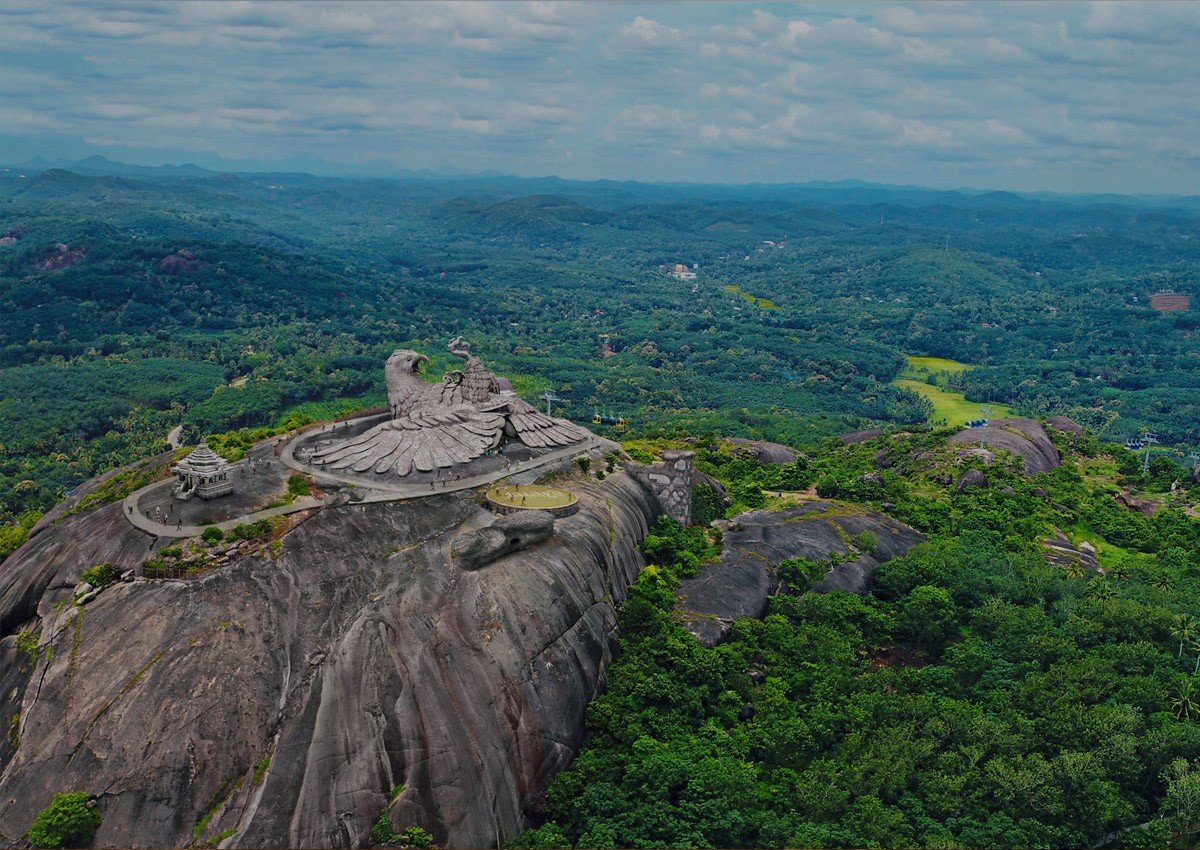 If you visit, there rare plenty of other interests in the area such as rock climbing, rappelling and rifle shooting with an Ayurvedic resort nearby as well as a museum within close proximity.
@KeralaTourism proudly presents the grand inauguration of the 2nd phase of Jatayu Earth Center which will be held on July 4 at Chadayamangalam by Hon CM @vijayanpinarayi .The project which houses the Jatayu sculpture will be one of the wonders of the world. #KeralaLeads #Kerala pic.twitter.com/O2oVPkBJlx

— Kadakampally Surendran (@kadakampalli) May 22, 2018
When one says this is the biggest sculpture of a bird in the world, it's no small feat. From tail to head the sculpture stretches 200ft  and is built on top of the 1,000ft-high Jatayupara towers.
Rajiv Anchal, says he had the idea for longer than 10 years."I had presented a model for this sculpture to the Department of Tourism during my Fine Arts College days in the 1980s. Although they were impressed, it didn't take shape back then."
He also mentions that it's rather important to note that the sculpture should not be turned from a cultural attraction to a religious one and according to him, "Jatayu died protecting a woman's honor and that is what the sculpture stands for. People of all faiths have invested in the project and people of all faiths will be coming to see it. My work is for all of them. For those looking for religion, there is the old temple just outside the compound."
If you enjoyed this article please SHARE it.
And if you haven't already please help us reach 3 million Facebook fans by 
following us HERE
My Name is Kasim Khan and I am the founder of Educate Inspire Change. I have just returned from a 1 week stay at the world's first medically licensed plant medicine retreat, it's called Rythmia and is in the beautiful country of Costa Rica. During this week I had the most profound and transformational experience of my life and it's not only me . . .over 95% of people who embark on this journey at Rythmia reports that they too had a life changing miracle. This magical place had such a profound effect on me that I am now dedicating my time to sharing this healing opportunity of a lifetime with you all.