Over the last few centuries, the most exquisite, ethereal stained glass windows have graced some of the most prevalent places of worship. Usually associated with Gothic cathedrals, these beautifully colorful panes have been found in various religious sites, from modern churches to mesmerizing mosques.
Let's take a trip around the globe and view some of the most prolific stained windows, ranging from medieval works f art o contemporary creations. The pieces may drastically vary in size, but not one can be overlooked, each possessing a charming kaleidoscope of colors.
Sainte-Chapelle
Known as the "jewel of the Rayonnant Gothic period, the stunning Paris borne Sainte-Chapelle was constructed in the 13th century by King Louis IX. The initial intention was a building made to house precious relics, the impressive building boasts 15 windows, measuring nearly 50ft in height, each depicting a biblical scene rendered in the most impressive gem like tones. The Sainte-Chapelle is also rather well known for it's kaleidoscopic colors of it's rose window.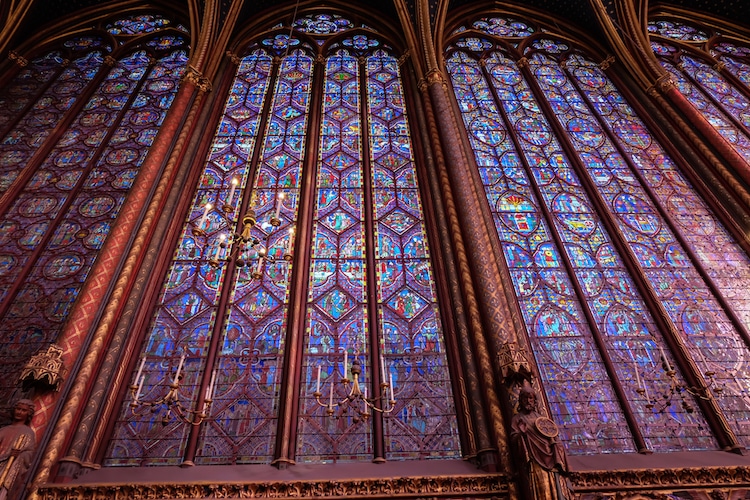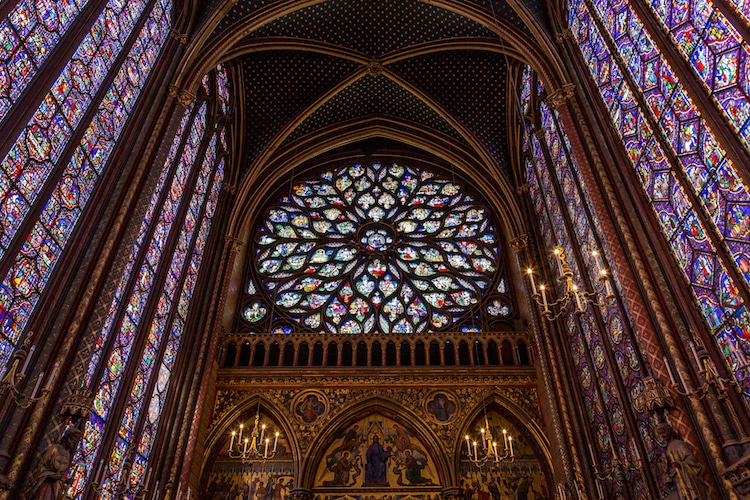 King's College Chapel
The late 15th and early 16th century saw the erection of the beautiful Gothic chapel in the University of Cambridge's King's College. Additional to the fan vaulting and the painting by Baroque master Peter Paul Rubens, King's College Chapel, the Chapel also boasts a treasure trove of the most beautiful narrative windows. Incorporating both religious and royal motifs, the panes illustrate the artistic advancement of the late English Gothic period.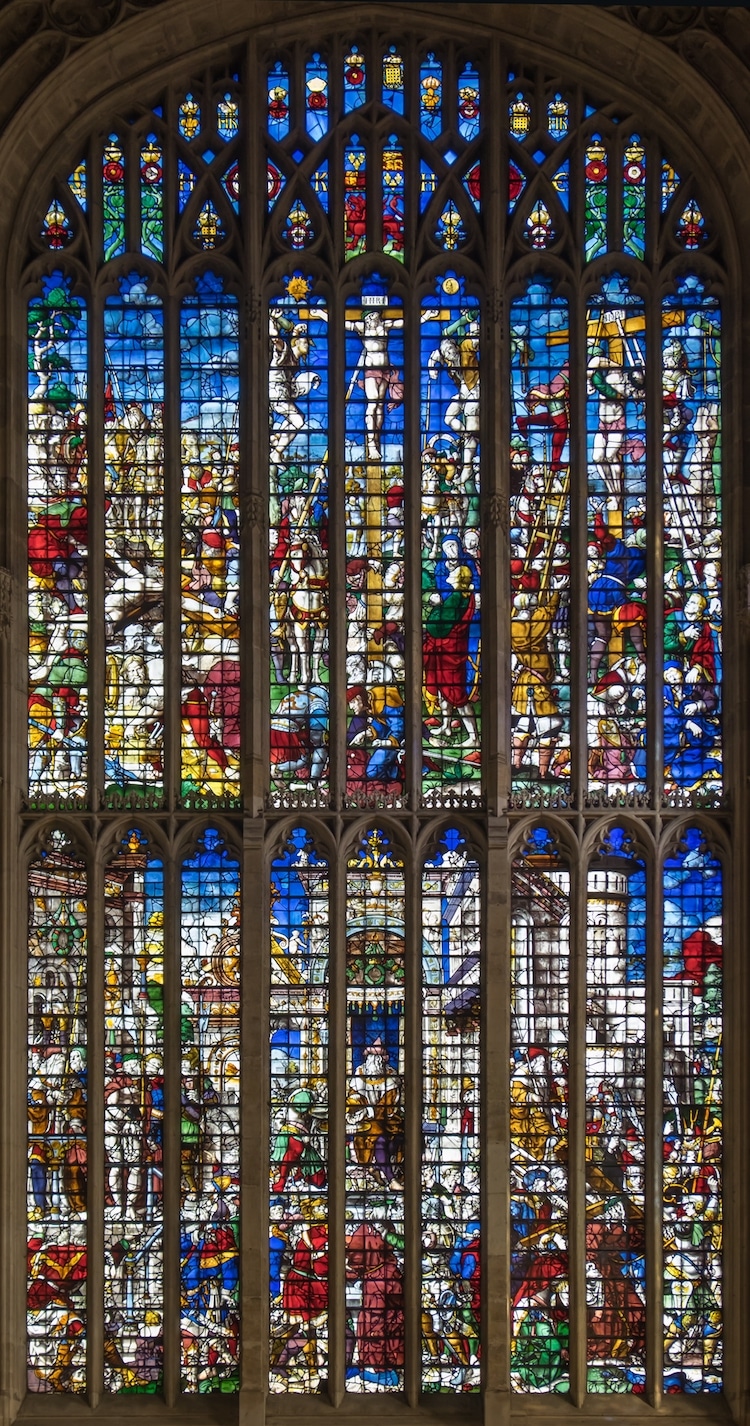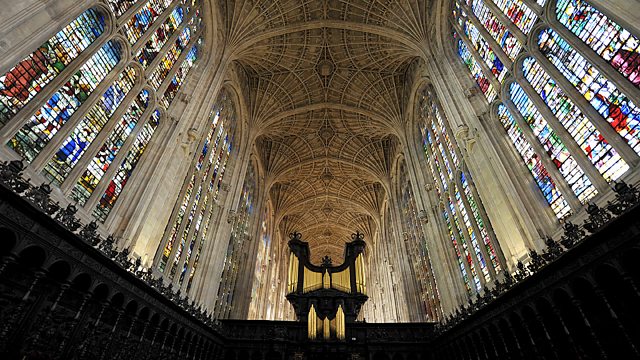 Nasir al-Mulk Mosque
A 19th century place of worship we cannot leave off this list is the Nasir al-Mulk Mosque, nestled in Shiraz, Iran – a gem of Islamic architecture. Featuring the most beautiful row of ornamental stained glass windows, this "pink Mosque" offer it's worshippers the most glorious spectacle daily at dawn, with the morning sunlight flowing through the panels, illuminating the interior's rose-colored tiles and patterned Persian carpets in the most enchanting array of colors.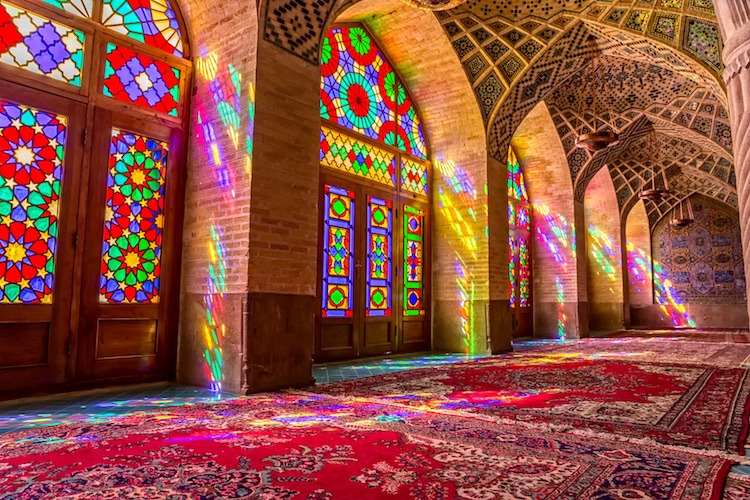 La Sagrada Família
Designed by no other than modernisme Antoni Gaudí in the late 19th century, La Sagrada Família is on Barcelona's list of their most famous destinations.  "Expressiveness and Grandeur" are captured in Gaudi's vision, with the multi color windows ranging in shape and color scheme throughout, making basilica's avant-garde interior more than just eye-catching.
The Rosary Chapel
Ideally nestled in Vence, a commune in southeastern France, the Rosary Chapel was aptly designed and built between 1943 and 1949 by then modern artist, Henri Matisse. Additional to the minimalist spire and mosaic decorations throughout, the small chapel features some of the most spectacular windows, reminiscent of the artist's famous cut outs, with each piece featuring bold color contrasts and forms that when illuminated, transcend with abstract beauty, signature of Matisse's twist.
The Grossmunster
The Swiss Grossmunster is an 11th-century Protestant church in Zurich, built in a more Romanesque style, an approach known for its thick walls, small windows and beautiful stained glass windows. The spectacular windows were added in the 20th and 21st centuries, boasting some of the most spectacular pieces by Pop Art icon Sigmar Polke.
The Chapel of Thanksgiving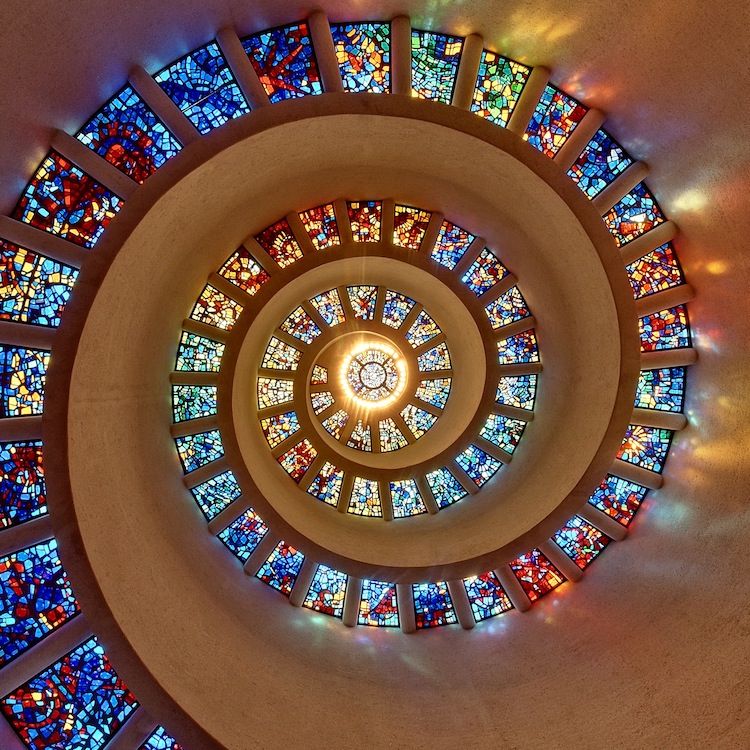 In downtown Dallas, Texas, you'll find the non-denominational Chapel of Thanksgiving. Built in 1976 with a vision "to promote the concept of giving thanks as a universal, human value", the chapel celebrates this very idea through the most striking stained glass spiral, which appears to change color as it twists, towering towards the sky.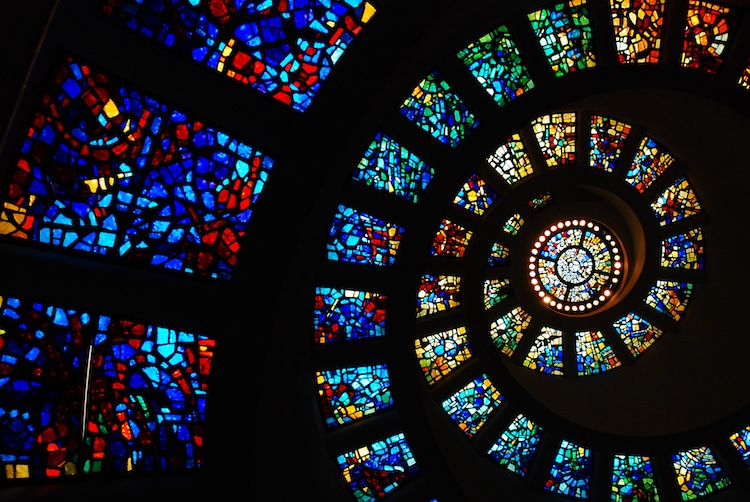 If you enjoyed this article please SHARE it.
You can follow us on Instagram HERE
And if you haven't already please help us reach 3 million Facebook fans by following us HERE
You can follow Kash Khan the Creator of EducateInspireChange  @ConsciousKash on Instagram
My Name is Kash Khan and I am the founder of Educate Inspire Change. I have just returned from a 1 week stay at the world's first medically licensed plant medicine retreat, it's called Rythmia and is in the beautiful country of Costa Rica. During this week I had the most profound and transformational experience of my life and it's not only me . . .over 95% of people who embark on this journey at Rythmia reports that they too had a life changing miracle. This magical place had such a profound effect on me that I am now dedicating my time to sharing this healing opportunity of a lifetime with you all.
Are you looking to make a soul connection? New Spiritual Dating App could be just what you're looking for!
LIKE OUR PAGE
Comments