by Jade Small
Over 300,000 people signed a petition to help these beagles, if it was not for them, they would have been euthanized after enduring a long cruel and unnecessary year of lab testing at Charles River Laboratories in Michigan.  The 36 surviving Beagles were force fed fungicides.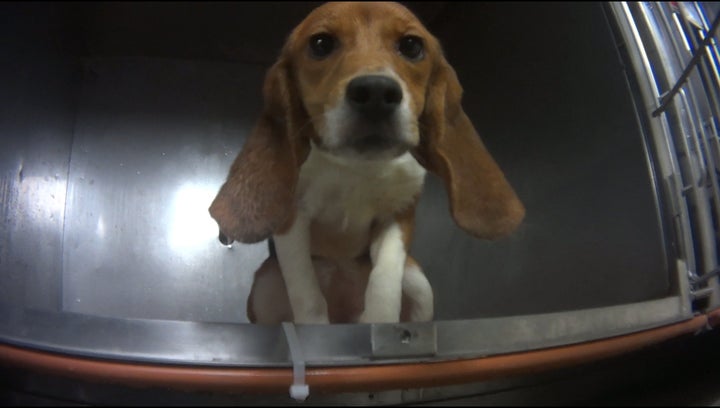 The Humane Society of the United States released footage of some of the Charles River Labs previous appalling experiments on animals, where beagles suffering from wounds while being locked in cages and force fed unknown substances could be seen.
The Humane Society investigated how animals were being treated at the lab and reported beagles 'cowering, frightened, in their cages', while being routinely 'infused with drugs, pesticides and other products, using crude methods'.
The health agency in Brazil that mandates experiments like these gave Corteva authorization to end the experiments on March 18th, and shared the following statement on twitter:
We've been working to refine, reduce, & replace animal tests for years. Today we're pleased to announce our efforts resulted in a waiver & we can stop the study. We'll make every effort to re home the animals.
Finding caring, safe homes for all of the dogs must follow a process, which takes time. The dogs are currently under the care of veterinarians, and we remain fully committed to assuring safe homes are found for all the dogs as soon as possible.
The Michigan Humane Society gave the following statement on Friday, 28 March:
We are happy to announce that we have reached an agreement with Corteva Agriscience regarding the placement of the beagles from the study. We are pleased with their decision to work with us and look forward to a new beginning for each of these animals.
The beagles will be transported to our facilities within two weeks for evaluation, care and to explore placement options.
We will announce a time frame for when these beagles will be available for adoption and details regarding adoption applications via our social channels as soon as possible. Our focus right now is on working toward positive re-homing opportunities for each of the animals.
Anyone interested in adopting one of the Beagles once they are ready to be re-homed can keep eye on the Michigan Humane Society social media channels for info.
If you enjoyed this article please SHARE it.
My Name is Kasim Khan and I am the founder of Educate Inspire Change. I have just returned from a 1 week stay at the world's first medically licensed plant medicine retreat, its called Rythmia and is in the beautiful country of Costa Rica. During this week I had the most profound and transformational experience of my life and it's not only me . . .over 95% of people who embark on this journey at Rythmia reports that they too had a life changing miracle. This magical place had such a profound effect on me that I am now dedicating my time to sharing this healing opportunity of a lifetime with you all.
Kasim Khan
Creator of 

Educate

Inspire

Change